It's the ultimate support platform and inspirational members-only community that takes your photography from good to great.
 Are these frustrations
holding you back?
You don't have enough time to take photos?
You lack confidence in your photography?
You don't understand your camera's settings?
You don't understand the technical jargon?
You struggle to come up with creative shots?
You don't know how to edit your photos?
You don't know where to get feedback?
If you're saying "yes", then you're not alone!
iPhotography+ is the home for aspiring photographers like you who are looking to dramatically improve their photography skills while building the confidence they need to get out with their camera.
Membership to iPhotography+ gives you the tools, support and training along with access to a private community of passionate photographers who are being closely guided by a team of experienced, professional photography tutors.
Get more answers, inspiration and understanding with iPhotography+.
How iPhotography+ helps you: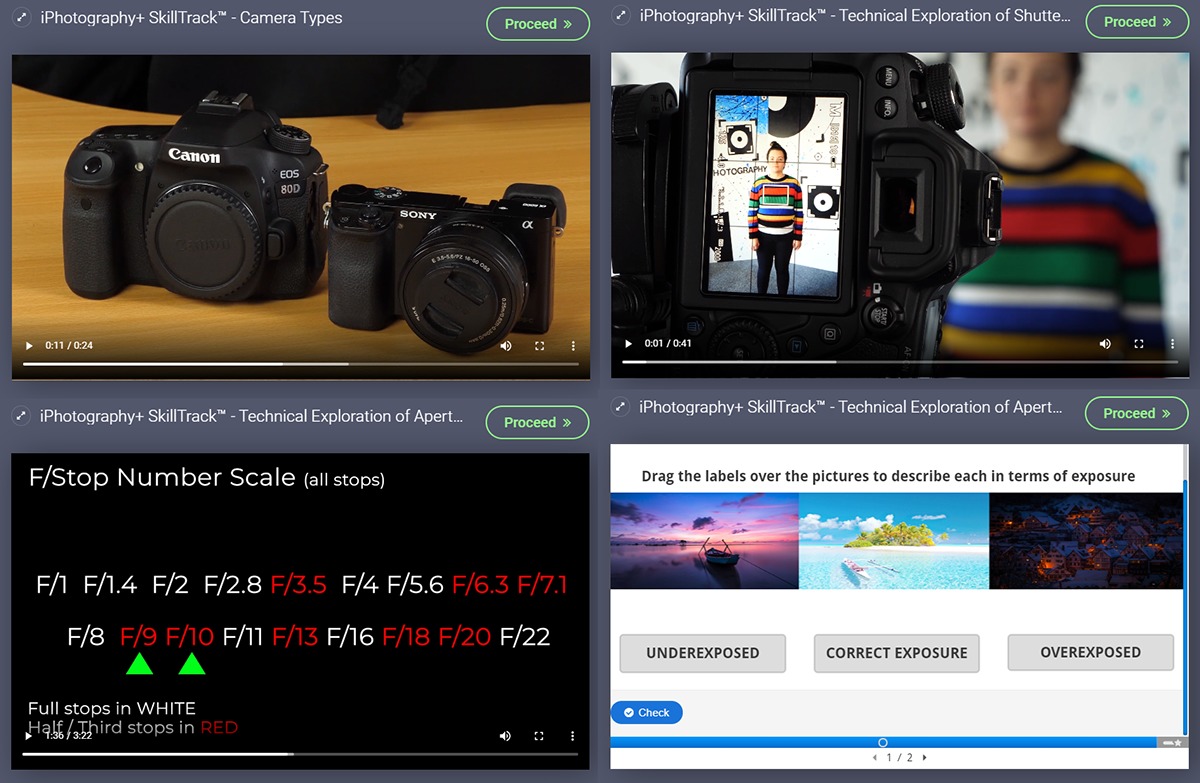 Interactive SkillTrack™️ training
iPhotography+ members gain exclusive access to our most innovative training tutorials which deliver a tailored learning experience so that you're getting the exact information that you need, when you need it.
Decision Based Learning
The choices you make throughout these lessons dictate the topics you'll learn. See the outcomes of your decisions, skip areas you already know and get straight to the facts you need, saving you time.
SkillTrack™️ Technology
An ongoing source of photography lessons, presented using ground-breaking SkillTrack™️ Technology which delivers a tailored learning experience for your precise needs. 
Binge-Worthy Content
With new training videos constantly being released, covering basic camera functions through to creative skills, there's a school of lessons to binge-watch.
Games and Challenges
You'll find custom designed mini-tests, games and challenges built directly into the video training. Use this gamification to improve your skill retention with a personalised training path.
It's cutting-edge training that's light years ahead!
Personalized Video critiques
Each month our team of professional tutors handpick a selection of photos that iPhotography+ members have uploaded to the gallery for in-depth video feedback.
Watch as we discuss, dissect and critique, on screen, your images, focussing not only on the brilliance of your creativity, but also giving practical feedback and simple ideas on where you can improve.
Click the play button below for a sneak-peek at one of our past monthly member critiques:
We'll even show you some live editing tips on your photos to see those changes in action.
Not only is it a great opportunity to understand more about your photography but also that you may not be the only one having a problem.
An ever growing library of tools
You can't take photos and be on the internet at the same time, that's why iPhotography+ provides a tonne of valuable offline resources that enable you to plan, shoot and edit your photographs without being distracted. 
Using the iPhotography+ Kitbag you'll have access to an overloaded download library packed with photo tips, contract templates, copyright examples, PDF shooting guides to help you get started.
Then every month we release a new set of photography tools for the photo editors amongst us. We've got custom designed actions and brushes for Photoshop pre-sets for Lightroom and high-res backgrounds to transform your photographs into digital art. These tools are created by our teaching staff exclusively for iPhotography+ students. You can even send us your own creations to put in the Kitbag.
Network with photographers worldwide
We believe a passionate atmosphere breeds a passionate artist. With iPhotography+ create your own social media styled profile to discover and connect with other students. Photography is all about networking, learning from others and discovering a different point of view. Our premium platform allows you build up a list of photo friends across the world that you can tag, like and chat too.
Forge real-world connections using our invitation feature to arrange meet-ups with other local students and get yourself a camera buddy. It's a great place to share tips about your photo experiences and find out how others created their shots with direct private messages.
Help and support from our team of tutors!
iPhotography+ will save you time searching the internet for half-baked or non-descript answers to your questions. Our teaching staff of professional photographers will be on hand to give you personalised answers to all photo queries. No question is too basic – come with no experience and gain plenty.
iPhotography+ aims to build a community where the knowledge you learn is passed on to others, creating a strong skillset amongst everyone. If you know the answer to someone's question – then let them know.
Self-assessment is a vital skill to implement away from the iPhotography+ community. These extra assignments will test your camera skills across a range of disciplines and teach you how to grade your own work.
Each assignment has a main objective, possible hazards to watch out for and example images to grade yourself against.
Watch your photography skills grow as you become your own mentor, picking up on potential pitfalls, compositional mis-steps and key areas for improvement as you're out shooting. The best way to retain information is to practice it daily, and our self-assignments are the perfect outlet to do so.
MASSIVE SAVINGS ON BRANDED EQUIPMENT
Photography isn't always about the gear, but when time and money allow it's great to upgrade or add to your kit bag with new accessories to elevate your photography to the next level.
iPhotography has teamed up with carefully hand-picked partners to deliver plus members exclusive discounts on a number of different brands and products.
You'll get a fresh new premium guide published every month on a different photography or editing trick to try out. If you've got a technique that you're struggling with, let us know, maybe we'll publish a whole guide dedicated to solving it!
These members-only guides will help you develop skills that others on iPhotography aren't discovering or mastering. You'll be a big step ahead of others in reaching your goals.
Let's introduce you to the iPhotography+ private Facebook Group – it's a thriving photography club in the palm of your hands.
Everyday you'll find uplifting discussions, interesting debates, behind the scenes photos, hilarious conversations and of course a LOT of inspirational photography talk! There are also tonnes of surveys, polls, inspiring features and quizzes to check out.
If you have a pressing photography question or issue then you have instant access to 24/7 responses; our worldwide members are posting comments and images throughout the day and night!
Each month we run a brilliant photo contest with prizes to be won; from camera accessories to new training courses!
On top of this, our teaching team are always on the lookout for inspirational members to be crowned 'Student of the Month'. A title that gets your best shots showcased to the whole group.
Don't Just Take Our Word For It
Read just some of the genuine feedback from iPhotography+ members which can be found on Facebook:
Hit the play button in the video below for a sneak peek at just some of the fabulous benefits you'll get as an iPhotography+ member:
Be a Smarter Photographer. Join iphotography+ today!
Pick your preferred secure payment option and save 50% on membership fees for a limited time:
Lock-in your 50% Member monthly discount:
a month
No Commitment. Cancel anytime with 1-click
30-day money-back guarantee
BEST VALUE:
a year
No Commitment. Cancel anytime with 1-click
30-day money-back guarantee
Frequently Asked Questions
What's the difference between iPhotography+ and the iPhotography courses?
iPhotography+ and iPhotography's range of courses work side-by-side by because it plugs the gap between simply learning and actually getting the personal help and support you need to apply what you've learned without taking up too much of your most precious resource – time. Through its carefully crafted membership benefits iPhotography+ removes the obstacles and frustrations that have held you back so far and provides you with an active support community to keep you inspired and moving forward.
Does it matter what 'level' of photography I am at?
No. iPhotography+ has been designed to cater and support everyone from absolute beginners with zero knowledge, experience or ideas, through to keen amateurs and even Pro's. If you've recently picked up your camera for the first time, then you're in the right place!
I haven't completed iPhotography Course yet, can I still join iPhotography+?
Absolutely. In fact, iPhotography+ has been designed for people who have perhaps struggled to get through the course, perhaps due to time constraints or similar factors. Ultimately, through iPhotography+ we've created a faster, easier, more streamlined pathway that helps you develop the knowledge, skills and confidence you need to become an excellent photographer. Plus, you access to our private, supportive community which a course alone cannot provide..
I've completed iPhotography Course, how will iPhotography+ benefit me?
If you've completed the course then joining iPhotography+ member will help you get that next level, quickly. Not only will membership refresh and really cement the information you learned during the course, but it will enable you to put it all into massive action – quickly and efficiently, while keeping you inspired, motivated and entertained along the way.
Can I join iPhotography+ at anytime?
There will be limited opportunities to join iPhotography+ throughout the year. This is so that we can really take care of our existing members by keeping the group relatively small and manageable. If you're not ready to join today, just add your email to our waiting list and we'll contact you if and when we reopen. However, please keep in mind that membership fees will be increased for new members who join after this initial launch period.
What are the different payment options?
We offer 2 easy membership payment options: Option 1 is Pay Monthly. Just like a gym or Netflix subscription your card is billed automatically at the same time each month, which gives you unrestricted access to the membership area, past content and the content that is delivered during that month. You can cancel with 1-click at anytime and your card will not be charged again. Option 2 is Pay Annually. This is the best value option because you are getting 12-months of membership for the price of 10. Your card is rebilled at the same time each year. As with the monthly option, you can cancel with 1-click at anytime during your membership. Once you join you are 'grandfathered in' at the same price each month/year even when membership fees increase for new members.
If I join monthly can I upgrade to annual membership later?
Yes, you can upgrade to annual membership at any time with just a couple of clicks from your account page. Joining annually saves you money by giving you two months completely free!
Can I cancel if I don't like it or don't use it?
Yes. We understand that iPhotography+ might not be for everybody. That's why, like Netflix, you can stop it whenever you choose by clicking the 'cancel subscription' button which is located within your new membership area. So, you won't need to contact support, explain yourself to anyone, or jump through any hoops. We also offer a 30 day money-back guarantee, so if you're not absolutely thrilled with iPhotography+ for any reason within the first month, then we'll also refund your membership fee in full. We've made joining iPhotography+ as risk-free as we possibly can. In fact, we are taking all the risk.
How and where do I access my iPhotography+ Membership?
The moment you join iPhotography+ you'll automatically unlock brand new areas from within your existing iPhotography course account that regular students can't access. You'll be privy to some outstanding benefits, whereas regular students are restricted to their course or gallery.